Team Building at the Rising
For an unforgettable event, run away with your team to the circus!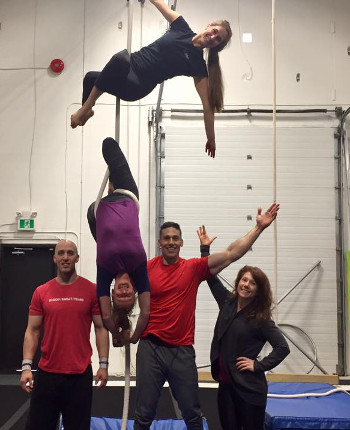 New for 2018, The Capital City Circus and The Rising - Victoria Centre for Circus Arts are pleased to announce Victoria's most exciting team building events. You can achieve the impossible when you join the circus! Your team will get personal instruction and supervised practise time with circus skills of all kinds in a fun and safe environment. Sarah and Iain have been teaching circus arts to adults of all ages for over 20 years; we guarantee a challenging, rewarding, and fun experience for all participants. You'll have a chance to try:
Aerial Silks & Aerial Hoop
Static Trapeze
Partner Hand-to-Hand
Juggling with Balls, Scarves, Rings and more
Vaudeville Prop Balancing and Manipulation
Balancing on the Rola-Bola
And lots more!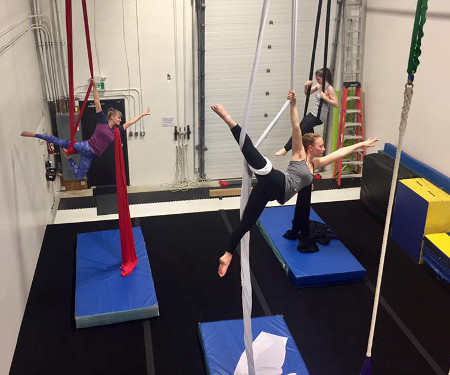 The Capital City Circus team building events can be structured as full day workshops, incorporating seminars on organizational learning, teamwork, and high-performance practising. Or they can be run as just a fun break from regular life! We've even got a circus themed party room for refreshments or on-site catering.

With the breadth of circus skills on offer, we've got something for everyone, no matter their age or level of fitness. Circus skills are challenging, satisfying, and educational, at any level of ability from beginner to expert. But most of all, they're fun!
All coaches are certified in their fields where applicable, and the centre is fully insured and inspected, meeting rigorous industry safety standards. We guarantee a supportive and safe environment, and a fun and educational experience!
Contact us at info@capitalcitycircus.net to discuss the possibilities.